What text message scams look like
Text message scams (sometimes called "smishing scams") are ever-changing; however, there are some common themes.
A hook to try and convince you it is an authentic message. For example this could be a message that claims to be from a courier wanting to deliver a parcel or your bank asking you to authorise a payment.
An urgent call to action. This includes saying your account details or other sensitive information have been exposed.
A link for you to click. This will usually take you to a separate web page or portal where you will be asked to input personal or financial details, or downland/update software on your phone.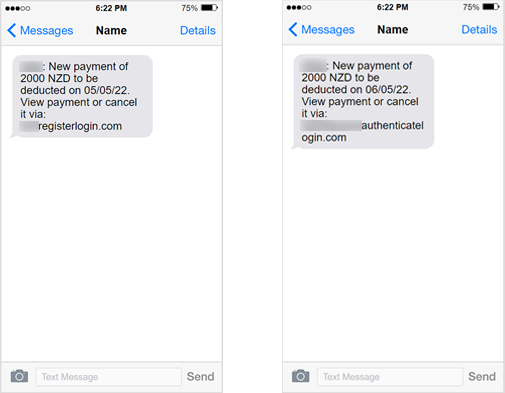 The wording of scam text messages changes constantly. That means we need to stay alert and watching out for signs of scams, to keep ourselves and our loved ones secure.
The Department of Internal Affairs (DIA) website provides a list of current text scams being reported to them.
DIA text scams External Link
I've received a suspicious text message
It's best to act with caution if you receive a text message that seems out of the ordinary or from an organisation that would not usually contact you in this way. Do not click on any links in the message or download or install any attachments.
If the message claims to be from an organisation such as a bank or courier company, contact the organisation directly to confirm the communication. It's important to remember your bank will not ask you to provide your password or login details over the phone or via text message.
If you have received a text scam or have received a suspicious text, please forward the text free-of-charge to 7726. This is a service offered by DIA.
It will send an automated response asking for the number that sent you the scam text. After replying delete the scam text message and block the number associated with the sender.
To forward a text message you touch and hold the message you want to forward, and a menu will appear which will allow you to forward the message or take you to another menu where the forward option will appear.
I've been affected by a text message scam
Here's what to do if you've been targeted and affected by a text message scam.
If you gave out some personal or financial details
Contact the service provider for your online accounts — like your bank or your email provider. Let them know what's happened and ask what they can do to help.
Change the passwords for any online accounts you think might be at risk
Get a free credit check done. This will let you see if any accounts have been opened in your name. There are three main credit check companies in NZ, and you'll have to contact all of them. You can ask to have your credit record corrected if there's any suspicious activity on it.
If you downloaded or installed any software updates or applications
Factory reset your device as soon as possible. This will delete any data on your phone, including personal data.
If you can, restore from a backup made before installing the malicious software. Seek the services of a qualified IT professional if you require assistance.
You will also need to change the passwords to all your online accounts, with urgency around your bank accounts. If you have concerns that your accounts may have been accessed by unauthorised people, contact your bank immediately.
Report text message scams by forwarding them free-of-charge to 7726.
How to protect against scams
Scammers are opportunistic and don't necessarily target individuals or groups. Often, they cast their net wide to capture as many victims as possible. Unfortunately, you can't control whether you are the target of a scam so having the knowledge of the characteristics of scam is important to protect yourself and your loved ones.
Reporting a suspicious text message will enable CERT NZ and government agencies to identify and communicate about scams to a wider audience and help stop them affecting New Zealanders.
Report text message scams by forwarding them free-of-charge to DIA via 7726.
Keep your settings secure
If you have an Android mobile device, in your settings you can disable the ability to "install unknown apps". If this setting is enabled, it allows your device to download apps and/or software from sources outside of those the manufacturer deems trustworthy, such as the Google Play Store.
If this setting has been switched on in the past, it will stay switched on unless it has been explicitly switched off again.
The best way to keep yourself and your mobile device safe is to make sure this setting is switched off within any apps that have access to the internet, such as web browser like Google Chrome.
Seek the services of a qualified IT professional if you require assistance.
Apple mobile devices have this setting disabled automatically.