CERT NZ Threat Reports
CERT NZ's Insights and Intelligence team produces periodic threat reports to illustrate and identify notable trends in information we collect. This leads to highlighting threats and possible actions or interventions for consideration.
We have collected these reports on this page.
The use of AI to target regional, culturally significant language groups
Published July 2023
This report focuses on recent artificial intelligence advancements and how it can be used to cause harm to regional, culturally significant (RCS) communities.
CERT NZ Threat Report - AI and RCS Languages [PDF, 111 KB]
For more on AI see our guide to common threats.
Artificial Intelligence | CERT NZ External Link
The CERT NZ Incident Communications Framework
CERT NZ has developed the CERT NZ Incident Communications Framework, it's designed to be used by any organisation during a cyber incident. The framework establishes what steps should be taken and at what time to properly communicate to customers, clients, and other stakeholders, without creating panic or stress. It can be added to any existing incident response plan as the communications section.
Translations and alternate formats
Cyber security threats affect all New Zealanders. Attackers are opportunistic and don't necessarily target specific individuals or groups. It's important to stay secure online, to help New Zealanders protect themselves and their loved ones we have translated and adapted our simple cyber security step into eight different languages and five alternate formats.
Cyber Change: Behavioural insights for being secure online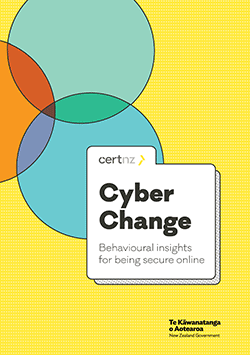 CERT NZ and The Research Agency have produced Cyber Change – a book of behaviour change techniques aimed at prompting positive cyber security actions.
The guide was created for government and industry agencies who are working in the area of online security, and its purpose is to share insights about how to improve the effectiveness of cyber security interventions.
Cyber Change: Behavioural insights for being secure online [PDF, 737 KB]
Cyber Change is part of wider research project exploring New Zealanders' cyber security attitudes, barriers and motivations. For more information on this research and the insights read our Cyber security attitudes and motivations: Integrated Insights.
Cyber security attitudes and motivations: Integrated Insights [PDF, 4.9 MB]
Get Cyber Smart posters
CERT NZ's four simple steps for Cyber Smart Week are important all year round. Download our posters below to spread the message in your organisation or business.