Quarterly reports
CERT NZ provides insights quarterly on the New Zealand threat landscape. The reports provide a snapshot of the types of cyber security threats and incidents that have been reported in the quarter, and an update on our work to protect New Zealanders online.
The latest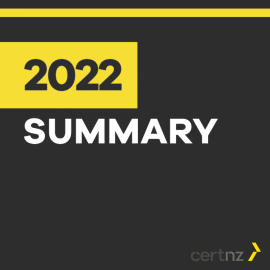 2022 Report summary
The CERT NZ 2022 report summary gives an overview of what we've seen and done in 2022. It includes key figures about reports, incident types, financia…
Read more
2022

2021

2020

2019

2018

2017
About our data
Reporting quarters are based on the calendar year, 1 January to 31 December.
We receive reports of incidents from both individuals and organisations. They choose how much or how little they feel comfortable providing, often about very sensitive incidents. We will not share specific details about an incident, without the reporting party's consent.
We aren't always able to verify the information we receive, though we try to, particularly when dealing with significant cyber security incidents.
From 1 July 2020, we've made some changes to the way data is collected and structured. These changes have been made to improve the level of detail and reporting produced. It also allows for other data sources to be introduced. The way we collect and use the information provided to us is set out in our privacy and information statement.
From quarter one 2022, the Quarterly Report: Highlights document has been changed to Cyber Security Insights to better reflect the content.