Cyber Smart Week 2021
Save the date! This year's Cyber Smart week will be held on 18–24 October.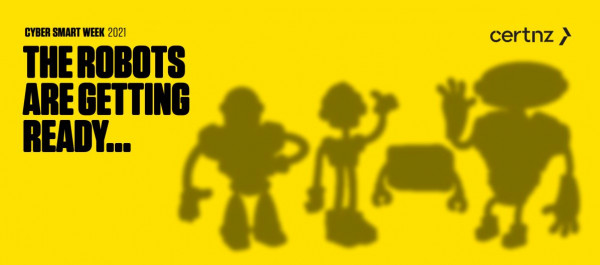 We're excited to announce that CERT NZ's annual awareness campaign, Cyber Smart Week, will take place 18–24 October 2021.
The aim of Cyber Smart Week is to increase New Zealanders' cyber resilience by empowering them with simple steps they can take to protect themselves from cyber security threats.
This year our beloved robots are getting a reboot, with a fresh new design in the works. And our key messages will continue to encourage all New Zealanders to improve their online security.
More information coming soon…
In the meantime, you can keep up-to-date with CERT NZ activities by following our social channels below:
Follow CERT NZ on Twitter for alerts, advisories and updates External Link
Follow CERT NZ on Facebook for information on how you can become more cyber secure External Link
Follow CERT NZ on LinkedIn for alerts, advisories and updates External Link
If your business or organisation would like to Partner with us for Cyber Smart Week 2021 and help keep New Zealanders secure online, please subscribe to Cyber Smart updates External Link
.